Quick and healthy snacks are always a hit in our household. So I was recently testing out some options for making fun, hummus-like dips with other types of beans, and have been enjoying this garlic-yyyy dip with fresh veggies and grain-free crackers. This is SUPER EASY and quick to make, and can be quickly adapted to your own likings. If you don't like a strong garlic taste, you can omit the garlic clove and opt for garlic powder or leave the garlic out and have a simple bean dip.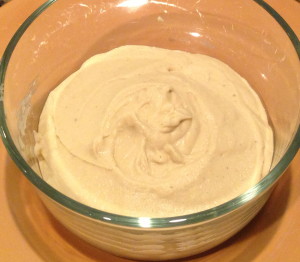 Garlic and Bean Dip
Ingredients:
1 can white beans (cannellini beans), drained and rinsed (prefer Eden brand beans)
1/4 – 1/3 cup organic olive oil
2 Tbsp lemon juice
1/2 – 1 clove garlic
1-2 tsp dried parsley
Sea Salt to taste
Directions: Add all of the ingredients to a high power food processor or blender (such as the Vitamix) and puree until desired consistency. Will last in refrigerator for several days and makes a delicious quick snack with fresh raw veggies or grain-free crackers. Can also be added to a meat dish or on top of a salad for a unique twist! Some add-in's to this recipe can be: olives, roasted red pepper, roasted garlic, sundried tomatoes, or spinach.
This pairs great with our Rosemary Cracker Recipe. We also enjoy the Go Raw crackers, it's one of my son's favorites, and they are delicious dipped in this bean dip.