We have been on a mission the past 10 years to not only remove toxins from our daily food intake, but to also remove these chemicals from our everyday products that we surround ourselves and our family with. When you really start to pay attention to the day to day products you are using or being exposed to, you will be blown away by the amount of chemicals in your path. When unstudied chemicals are used in cosmetics, bath and shower products, cleaning products, and personal hygiene items, the stakes are risky and high… and you are the one that ultimately pays the price. Many companies use ingredients that are linked to cancer, developmental problems, fertility issues, skin irritation, endocrine dysfunction, allergies, and inflammation. Many of these chemical ingredients actually penetrate the skin. Remember, your skin is your largest living organ. My rule of thumb is always this… IF YOU WOULDN'T SPRAY IT IN YOUR MOUTH OR CONSUME IT, THEN YOU SHOULDN'T PUT IT ON YOUR SKIN!  People also ingest these chemicals when used on lips and hands, and inhale sprays and powders as well.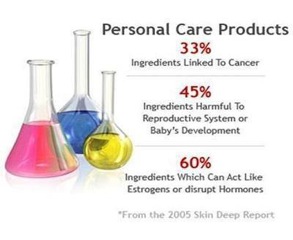 The personal care product industry is HIGHLY unregulated. Some of the toxic ingredients you will find are: Parabens, Synthetic colors, Fragrance, Phthalates, Triclosan, Sodium Lauryl Sulfate, Formaldehyde, Toluene, and Propylene Glycol. You MUST read the labels, do your research, and source out the cleanest products available. You can actually make many of your own personal care products with basic core ingredients that you probably already have around your house along with a few essential oils. There are also many clean companies I have discovered that are on the same mission as me! One of my favorites is Ava Anderson Non-Toxic products. I discovered these products when I was pregnant with my son, and have been using many of their baby products, the skin-care line (which smells and feels incredible), their lipstick and lipgloss, and their sunscreen and household cleaning products. I feel confident when using these products around my children and pets, knowing they are not getting exposed to harmful chemicals. I was pleased to find out one of my clients fell in love with these products too, and she even left her "Corporate America" job to pursue a "non-toxic" career with Ava Anderson. Here's her website so you can read more about these healthy products and find the alternatives you are looking for to clean up your personal care routine. www.avaandersonnontoxic.com/elizbethblonde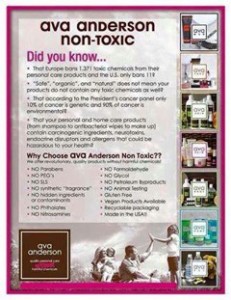 Here's to Clean, NON-TOXIC Beauty!